What is CLEANGLAS
CLEANGLAS is single layer sheet manufactured by extruding, molding and cutting process of polycarbonate resins.
CLENGLAS has excellent resistance to shocks and processibility and is widely used in the construction area so as electronic industry. Flexible molding and various colors will allow you to create aesthetic spaces.
Types/Specifications
CLEANGLAS-Solid sheet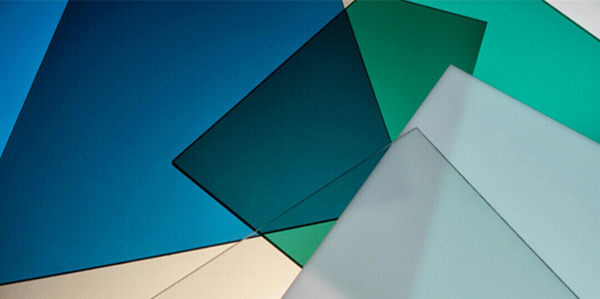 All our company standard products can be made of resin has been added UV stabilizer. Co-extrusion manufacture to enhance the resistance to ultraviolet light more than standard products is generated with additional cost. UV co-extrusion on the coating is generally in a thickness of 30 to 50 microns. The coast varies depending on the coating thickness. If you want a detailed estimate, please request us for the exact product specification you want.
CLEANGLAS - Embossed sheet
P&B WOOCHANG Embossed sheet has texture and pattern embossed on its surface. The texture diffuses the natural light and ensures equal dispersion over a large-scale area. It prevents glare and its translucent surface also protects privacy. It is mainly in the partition with beautiful decoration effects.
Embossing patterns are shapes of water drops, fog, diagonal, and grid.
Our diamond grid pattern embossed sheet had registered an industrial design for 'grid embossing panel', Korean Intellectual Property Office in 2012
TYPE
COLOR
THICKNIESS
WIDTH
Specifications
(Standard sizes)
SHEET
transparent,light green, green, brown, sky blue, blue, light smog, gray, milky, light diffusion
1.0-12.0mm
MAX 1,520mm
Sheet Specifications
1,000ⅹ2,000(1ⅹ2)
1,220ⅹ2,440(4ⅹ8)
1,520ⅹ2,440(5ⅹ8)
1,520ⅹ3,040(5ⅹ10)
ROLL
* Roll Specifications
30m(thickness 2-3mm)
20m(thickness 4.5mm)
* Customization is available for the sizes of your request.
※ Click on the image below, you can view a larger image.
Features
Same as the general properties of polycarbonate - resistance against shocks, transparency, thermal features, self-extinguishing, etc.
Insulation (Great Thermal Resistance)
Great heat transmission compared to other polymer materials. Outstanding insulation compared to general glass with equal thickness.
Resistance against shocks (Safety against breakage)
Safety and protection against bullet is secured due to excellent resistance against shocks. Widely used in places where safety is required. (protective structures, suppression shield etc.)
Glass-like transparency
Transparent as glass. (82% to 92% of light is transmitted.)
Light Weight
Low weight (about a half) compare to general glass.
(Note) Weight calculation (kg/㎡): Product thickness mm (T) × Width m (W) × Length m (L) ×1.2
Curve for Easier Construction
Flexibility allows for easier installation on the curves. However, same as Archilight, the maximum radius of curve must be complied during installation.
Maximum radius of curve (mm) : product thickness (T) x 180
CLEANGLAS Usage